Despite my laments earlier that KP's Pony Club was only in Britain, I found it. It can be found easily on YouTube. I am moderately fulfilled now that I have seen the first three episodes.
Usually, I'm a terrible person and snark heavily on horse movies because they are terrible, awful, unrealistic things. This show, shockingly, is not terrible. These are also real kids, who all seem very sweet and likable. The horses act like horses, and everyone treats them like horses. As far as reality shows go, it's pretty realistic… you know, as realistic as it can be that someone is funding a multi-week intense riding program for kids.
The first episode introduces us to the Katie Price, her family, and all the kids. Katie Price is described as a television presenter and personality, and I figured it out later on that she's a glamor model. Her husband is Kiernan, who seems very sweet, and tries hard to be involved. Katie has a flock of children, two of which are involved with her pony club.
The basic premise is Katie Price is an equestrian, she loves horses, and she wants to share them with others. I'm not clear if she owns most of the horses (one is definitely owned by another mom), but she brings all the kids together on her farm for regular training sessions in order to compete in a specialized discipline at the end of the week. She feels like an outsider in the equestrian world, and wants her pony club, and herself, to be accepted as serious equestrians.
She has a few friends and an acquaintance with kids similar to her kids' ages, and she invites them all to join her. I got the impression of genuine friendship between all of the moms, even the one who is new to the group. I guess getting botox, eyebrow tinting, and shopping for over the top dresses brings everyone together.
The first week's challenge is to take place in a hunt. I'm not positive of all the kid's abilities, but this seems like a bit of a tall order. They are all between the ages of 9 and 13, and all seem fairly novice. But then again, this kid jumps higher than I do, so maybe I've got it all wrong.
Despite staying on a horse over that jump, the kids are novice. They are enthused though, and want to learn.
The training session starts out with an evaluation to see where everyone's at. Katie stresses that the hunt is dangerous, and Junior flat out asks her why she would have them do something so dangerous. She replies that they won't do it if their skills aren't up to par, but if she wants them to work hard and try to do it. It's clear that safety is important, as all the kids have helmets and safety vests.
In addition to the kids riding in the hunt, Katie and the moms will be going to a hunt ball. All the moms choose a lovely evening gown for themselves, but Katie insists they all wear wedding gowns. Probably not the best impression to make if she wants to be accepted by the "horsie set", but she insists. It doesn't seem like the moms have any choice in the matter.
They were lovely dresses though, if you're going for the bridal look.
Katie decides to announce her pony club at a press conference, and has everyone dress up in outfits. Very, VERY over the top outfits. I got the impression this is a very Katie Price thing to do — always go over the top with crazy costumes.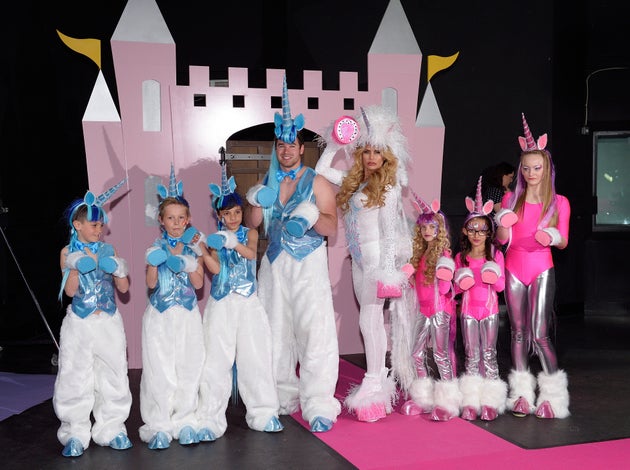 I have second-hand embarrassment for them. Although, I do admire that they (or Katie at least) has the guts to unabashedly wear those outfits. The kids are embarrassed, but kids are usually embarrassed by their parents, even when they aren't forcing them to dress up as colorful unicorns.
They prepare for the hunt, and the hunt ball by loading up all the horses in a giant horse van. The horses all load fine, which I admire, since the van looks terrifyingly high off the ground. The moms' travel is another issue, though. Their bus gets stuck in Katie's front lawn, making them extremely late to the hunt ball. Eventually, they make their late entrance in bridal wear, shocking the very people Katie was interested in impressing.
The day of the hunt is overcast and wet. I was already a bit terrified for the kids to be out in the fast moving hunt field, and now the weather isn't working in their favor either. Luckily the moms are interested in keeping their spawn alive, so half of them are pulled out. The braver/more experienced kids are sent out, though.
They are a bit nervous at first, but they do have their trainer riding with them, who talks them through the rough beginning. And then, miraculously, they all start to have fun. It seems the hunt goes off without a hitch, and everyone is very proud of their offspring.
I really liked this show. 90% of the screen time has a horse in it. I like that the horses weren't an afterthought, which is how it seems to be in most horse movies. It's not about the rider's personal lives, it's about horses and riding. Very little is shown of the people's lives, unless it directly relates to the horses. You can see the horse's personalities, and you can see the riders struggle, and it's a good reminder of how we were all there at that point. There are the braver riders who attempt everything, and even if they fall off they pop back on. Sometimes they get overwhelmed, but their trainers and their moms step in to comfort them and get them on the right track. Later, they will say they know they got overwhelmed in the moment, but they are feeling better about it now. Sometimes, we all feel like that with our horses.
Overall: This is an interesting show for horse people. There may be enough going on for non-horse people to enjoy it too, but I was really just blinded by everything related to the horses so I'm biased. So far, they have done the hunt, had a week of reining, and a week of showjumping. I can't wait for the next episode!